Our Spiritual Leader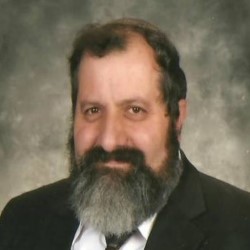 Rav Chagay Raviv is married to Ayala and has three sons. He studied at the Yeshivat Hesder and Kollel at Shaalvim from 1985-1994, and received Semicha from HaRav Avraham Avidan (past Rosh HaYeshiva of Yeshivat Shaalvim) and HaRav Sinai Adler (past Rav Ha-Ir of the city of Ashdod). Rav Raviv received his Teaching Certificate from Moreshet Yaakov, received a degree in Talmud from Bar Ilan University, and has almost completed his Masters degree in Talmud, also at Bar Ilan University.
For more than 20 years, Rav Raviv has been teaching in Hebrew and English at Yeshivat Sha'arei Mevaseret Zion, a Yeshiva for overseas students, and now serves there as a Rebbe and head of the Beit Midrash. He also teaches in various capacities at various community women's Batei Midrash.
Rav Raviv served for four years as Rosh Yeshiva of the Fuchs Mizrachi High School in Cleveland, Ohio. As part of his role as an Israeli emissary sent to Cleveland, he also served as the Rosh Kollel of its Torah Mi'Tzion Kollel.
Rav Raviv lived in Bet Shemesh for several years before he and his family left for shlichut in Cleveland. Two of those years were spent in Givat Sharet, after which he moved to Ramat Bet Shemesh and served as Rav of the Ramat Shalom congregation for four years.
If you want to ask non urgent questions to Rav Chagay click here.